By Courtney Pittman
Full of style and old-fashioned splendor, cottage house plans boast charming curb appeal and look as if they just stepped out of a fairy tale. These petite house designs bring more to the table than just picture-perfect charm. Small cottage home plans offer a kind of comfort that may be lacking in larger, less personalized homes. With open layouts, and spacious front porches, small cottage house plans live larger than their sweet size. Construction details like stone, brick, and wood give many cottage house plans an organic look. Modern cottage floor plans are adapted for today's lifestyles, with cozy family gathering spaces, inviting hearths, and up-to-date amenities.
Click here to browse our collection of cottage house plans or call 1-877-803-2251.
We've gathered some of our most popular and beloved cottage house plan designs – you might just find your next dream home!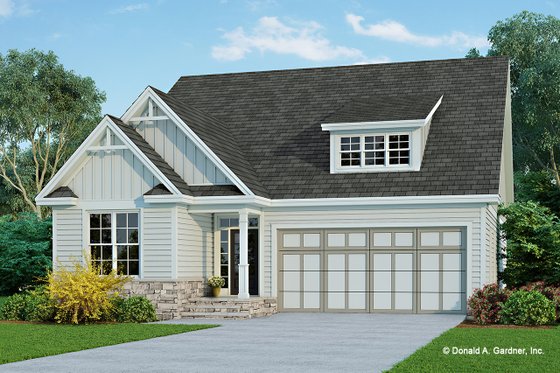 Plan929-1083
Privacy and togetherness find the right balance in this narrow lot design, which gives the master suite its own corner and encourages everyone to have fun together in the open great room.
The kitchen sports an island and overlooks the open, bright dining area (check out the skylights). Barn doors leading to the secondary bedrooms add a cute, rustic touch. For visiting relatives or an older child, the bonus room can become a spacious suite. See plan 929-1083 online.
Plan895-91
This adorable cottage house plan is both compact and spacious at just 824 square feet. A simple front porch greets guests, while adding more outdoor living, dining (just add cute table and chairs), and entertaining space. Inside, an easygoing layout allows the interior to feel breezy, bright, and larger than it actually is. See plan 895-91 online.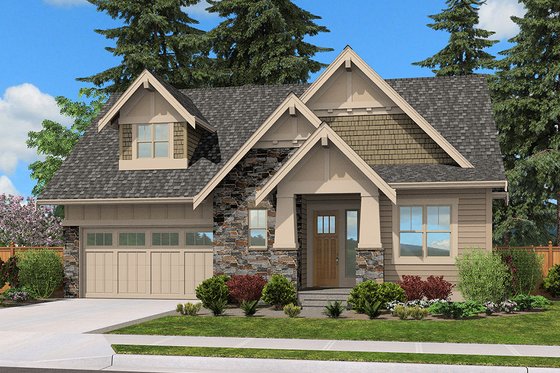 Plan132-567
This brand-new design brings style and versatility to a not-huge lot, making it more affordable to build. A fourth bedroom on the main floor can be used as a guest space or a home office.
Upstairs, the master suite treats you to a spa-like bathroom and huge walk-in closet. Check out the workshop in the garage. See plan 132-567 online.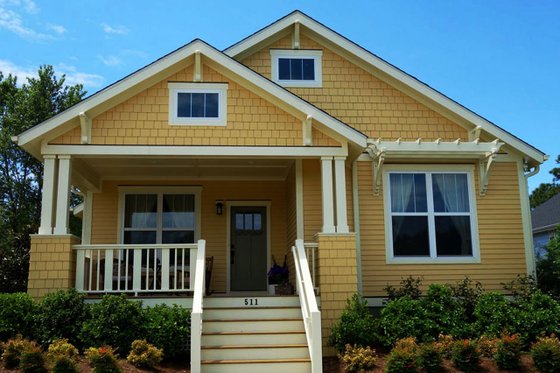 Plan461-53
Just 38 feet wide, this charming cottage house plan design features Craftsman details and a modern open layout inside. The large kitchen shows off a big island where everyone will gather for snacks. Just a step or two away, the dining area is ready for sit-down meals and overlooks the living room.
In the master suite, two sinks and a big walk-in closet stand out. A large porch in back provides outdoor living, in addition to the cute front porch. See plan461-53 online.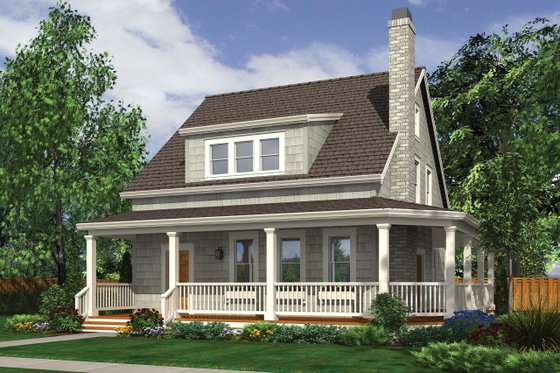 Plan48-572
The vast wraparound front porch is a major highlight of this cottage home plan design and is the perfect location for evening porch hangs. Double-hung windows add character and plenty of natural light.
Inside, a modern (and open) interior provides convenience and casual living space. Warm up in the living room by the cozy fireplace or kick back and relax in the sizable media room. Store everyday items such as backpacks, keys, coats, and shoes, in the mudroom just off the back porch. See plan 48-572 online.
Plan923-118
It's all about a welcoming feeling with this lovely cottage house plan. Spacious front and side porches provide multiple places to sit with a glass of something cold (or hot) when the weather is nice. Inside, the kitchen takes center stage with seating for six at the bar.
Warm up next to the cozy fireplace in the open great room. A handy mudroom next to the laundry room keeps things nice and tidy. See plan 923-118 online.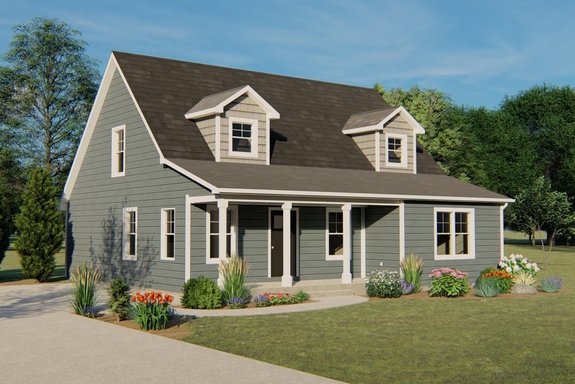 Plan 1064-22
This 1,998-square-foot cottage home plan presents you with an open layout. Hang out at the kitchen island or in the spacious great room. The master suite treats owners to a huge walk-in closet. See plan 1064-22 online.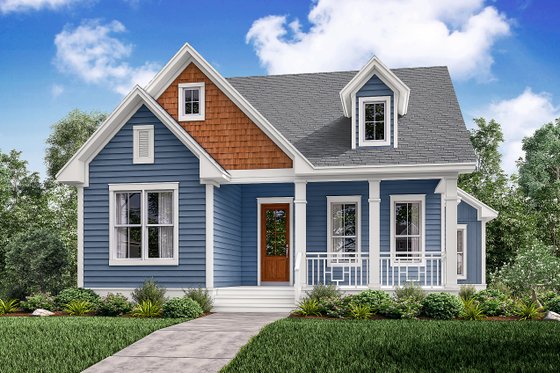 Plan430-145
Brimming with character and charm, this cottage floor plan is extra-inviting and loaded with features and style. Highlights we love include a luxurious master suite, over-sized closet, mudroom entry (with lockers!), a large walk-in pantry, and major curb appeal.
Relax and entertain in the open floor plan that encourages functional living with a splash of style. With both front and rear covered porches, this design fosters community and is perfect for entertaining family and friends. See plan 430-145 online.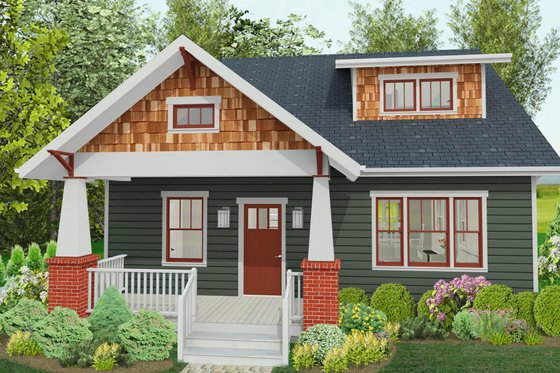 Plan461-51
This cottage house plan boasts Craftsman details and is all about convenience and relaxation. The open layout between the main living areas and smart features (such as the mudroom and large kitchen island) make everyday life easier for busy homeowners.
A vast rear deck and wide front porch deliver a relaxed attitude and make outdoor entertaining a breeze. Bring on the porch hangs! See plan 461-51 online.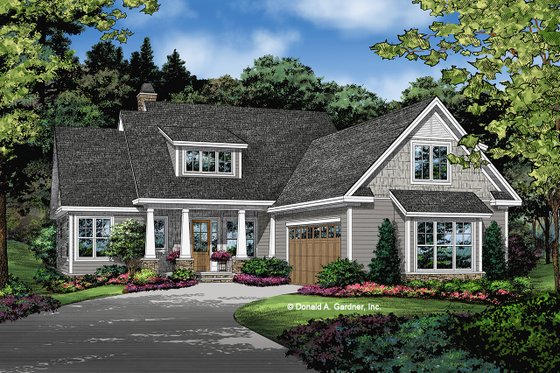 Plan929-1084
Modern and elegant, this cottage house plan displays an open layout with many thoughtful details. For example, the third bedroom sits near the front and includes two points of entry (one to the foyer and the other to the hallway) and can be used as a home office or sleeping zone.
On the left side of the floor plan, the master suite features skylights in the bedroom and a private bathroom with a huge walk-in closet. The center of the home feels open and kitchen-focused – perfect for relaxed gatherings. A bonus room upstairs adds the possibility of future expansion. See plan 929-1084 online.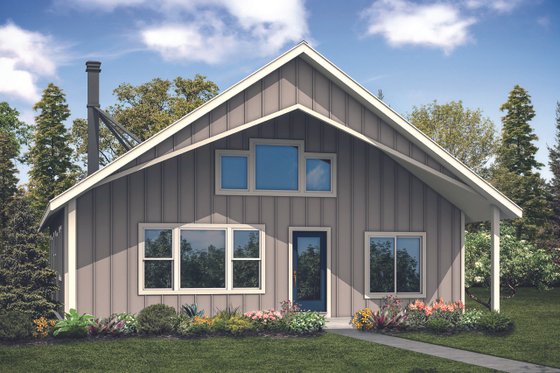 Plan124-1128
Whether you want a chic, simple vacation home or an affordable primary residence, this 1,706-square-foot cottage home plan has you covered. The layout of the gathering spaces is totally open, with the kitchen sporting an island that overlooks the great room.
Get cozy by the fireplace or relax in your suite. Nice weather? Relax on the spacious front porch with friends and family. See plan 124-1128 online.
Browse cottage house plans
Explore Craftsman home plans
Questions? Call 1-877-803-2251 today!