By Courtney Pittman
What is the cheapest type of house to build? Budget-Friendly and easy-to-build, affordable house designs include smart features like small footprints, open floor plans, outdoor living spaces, and more. We've rounded up some our most popular cheapest house plans to build below!
Modern Farmhouse Plan with Spacious Pantry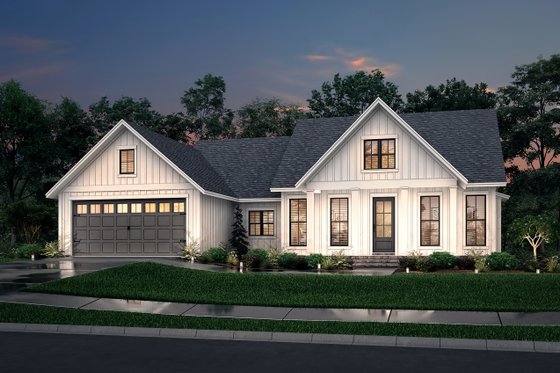 Plan 430-221 delivers easy flow
You'll find tons of nice surprises in this modern farmhouse plan, like extra storage in the garage, a big pantry next to the island kitchen, and a stylish barn door. An open floor plan between the kitchen and great room delivers easy flow. Take advantage of the rear covered porch when the weather is nice.
Check out these barn doors from Shelterness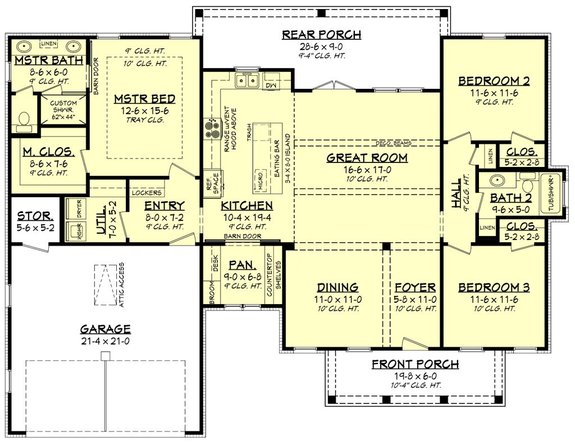 Small House Plan with Style
Plan 23-2631 features a modest footprint
This small house plan offers an uncomplicated design that is full of style. A modest footprint and easygoing floor plan make this house design both affordable and modern. Win, win! Don't miss the cool outdoor living areas.
Decorate a your small living room with these tips from The Spruce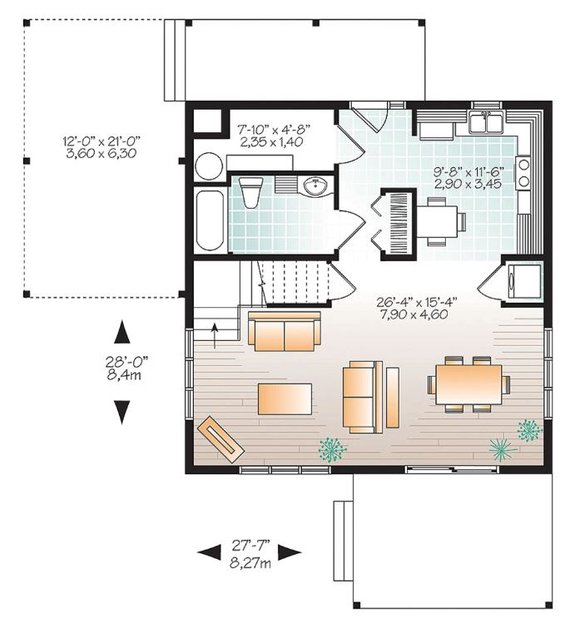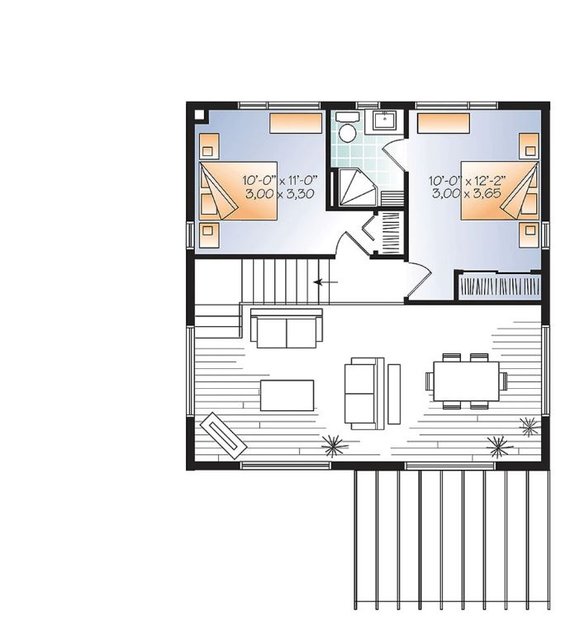 Contemporary House Design for a Narrow Lot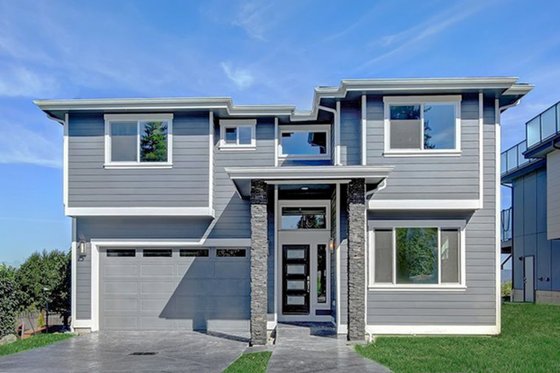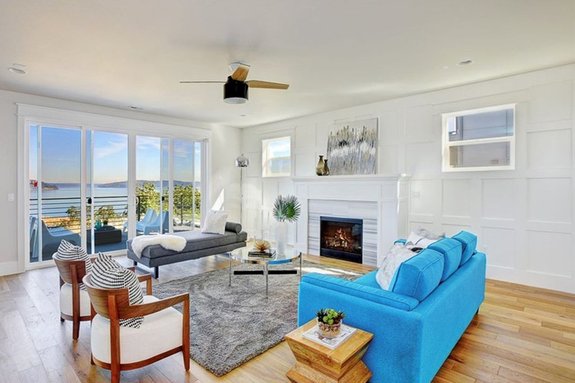 Plan 569-40 gives you a modern open floor plan
The cheapest house to build doesn't have to be small. With two stories of living space, this contemporary house plan would work great on a narrow lot. The super-simple design and open floor plan give you a spacious feeling, while cutting back on costs.
Sliding glass doors open to the outdoor dining and living area, extending the living space with ease and functionality. A guest suite on the first floor could also be used as an extra bedroom, home office, or playroom.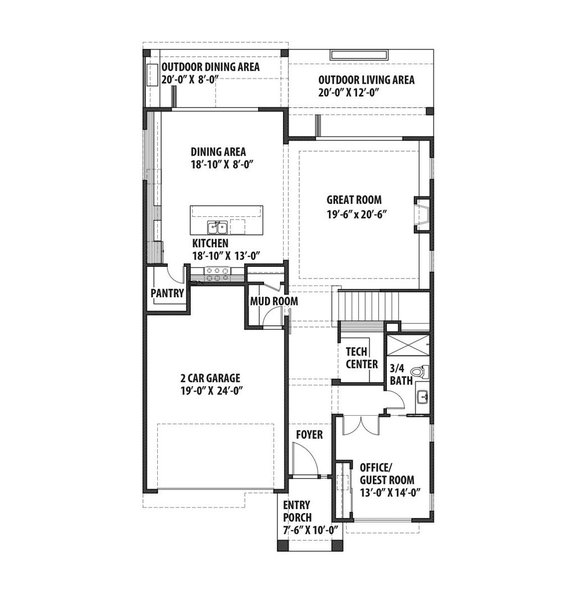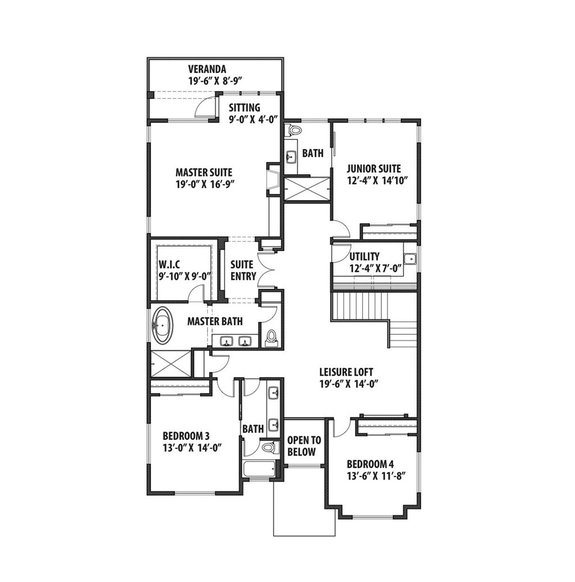 Modern House Design with Outdoor Living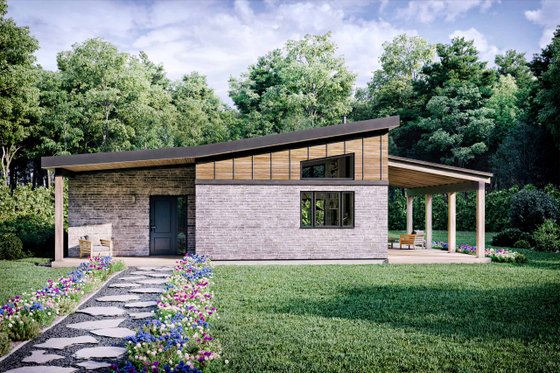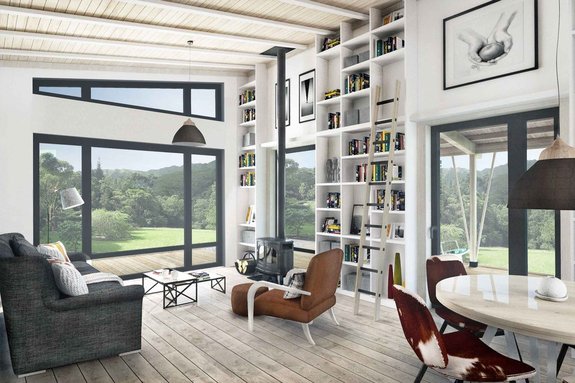 Plan 924-3 provides plenty of room for outdoor living
This modern house design makes the most of its small footprint. Plenty of outdoor living spaces deliver a relaxed attitude. Bring on the porch hangs! Inside, a spacious kitchen overlooks the great room. The main living area features high ceilings, which allow the space to feel open and airy. Organization is made easy with built-ins in the living room. Tucked away to the left of the floor plan, the master suite enjoys privacy and opens to the patio.
Discover these built-in shelf decorating ideas from The DIY Playbook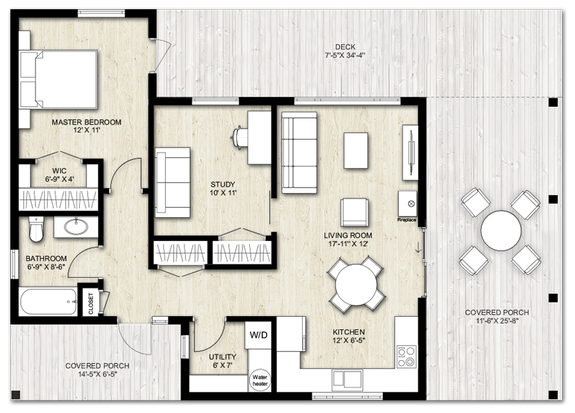 Ranch House Plan with Contemporary Floor Plan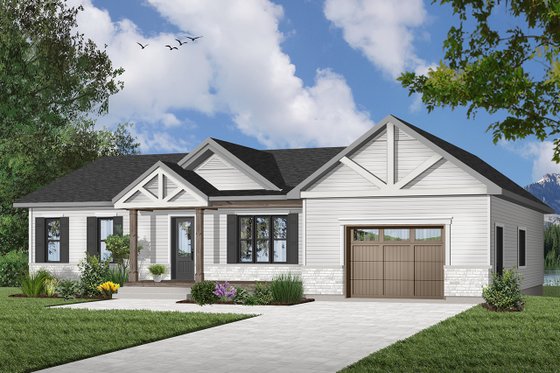 Plan 23-2653 encourages relaxed living
Here's a ranch house plan that combines the comfort of a bungalow and the convenience of a contemporary floor plan. The heart of this home is the island kitchen, living, and dining spaces. All opening to one another, these rooms are perfect for livability and relaxed living. Two bedrooms and a bathroom reside to the left of the floor plan.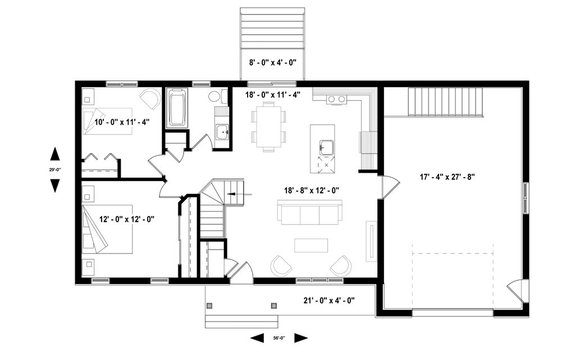 Major Curb Appeal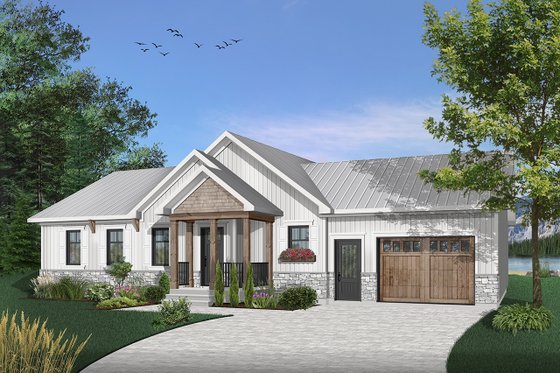 Plan 23-2652 includes a large kitchen island
This sweet house design delivers major curb appeal. Inside, a large living room opens to the well-equipped kitchen (which includes a large island and eating bar), and dining room. The master suite and second bedroom are located to the left of the floor plan and share a generously sized bath.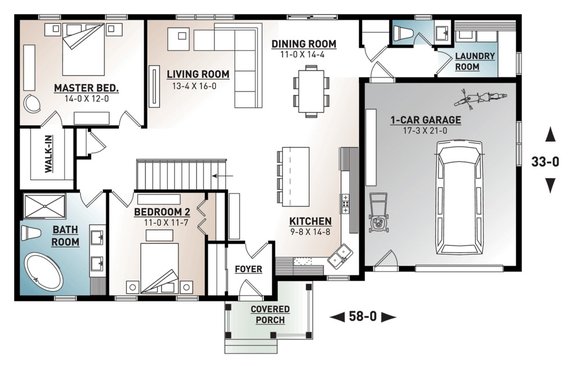 Seamless Indoor-Outdoor Living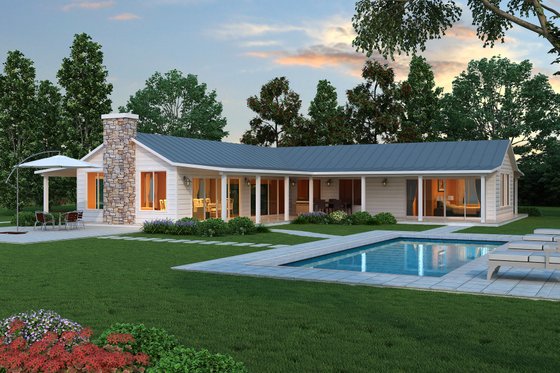 Plan 888-5 sports a cozy fireplace
This L-shaped ranch house design includes covered porches on several sides for seamless connections between the interior and exterior.
Inside, the open floor plan delivers a modern vibe. Warm up by the cozy fireplace that is centered on a floating hearth for seating and display. For added convenience, the laundry room is located in the bedroom wing, while the master suite is quietly tucked away at the rear of the plan.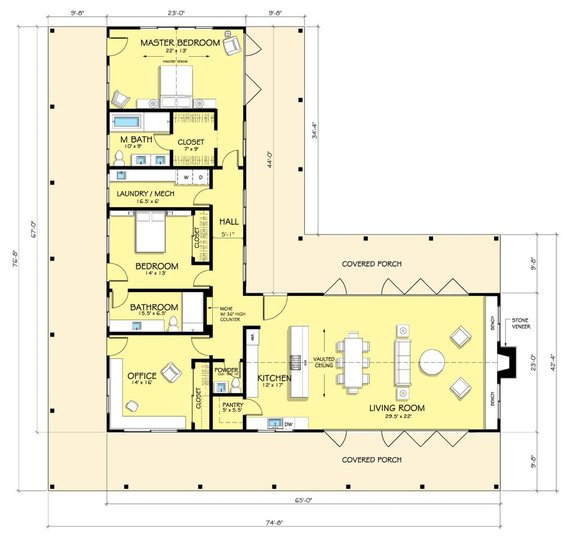 One Story House Design with Farmhouse Details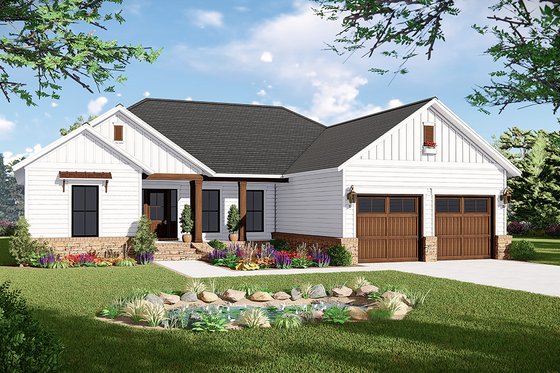 Plan 21-454 boasts vaulted ceilings in the great room
This one-story house design feels fresh and current, with vertical and horizontal siding and a cute metal roof accent – adding farmhouse flair. Inside, a vaulted ceiling gives an airy feeling to the great room and dining area, with the island kitchen overlooking it all. Owners will enjoy their five-piece master bathroom.
Clever storage details include space for linen in the hall bathroom, a counter for folding in the laundry room, and extra storage in the garage.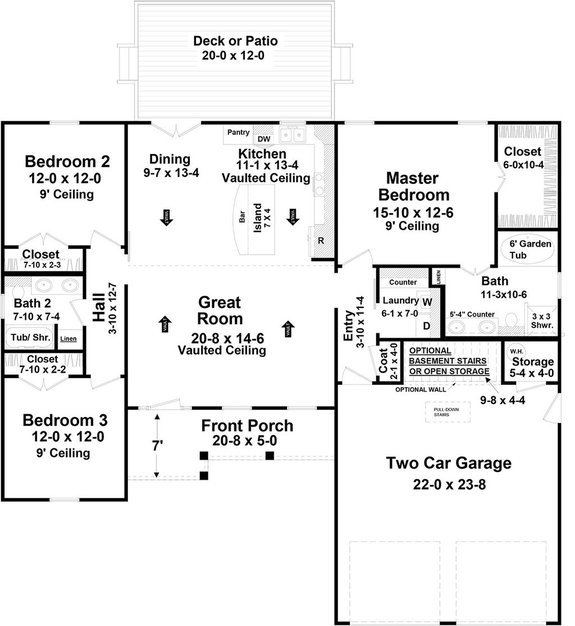 Modern Farmhouse Plan with Large Lanai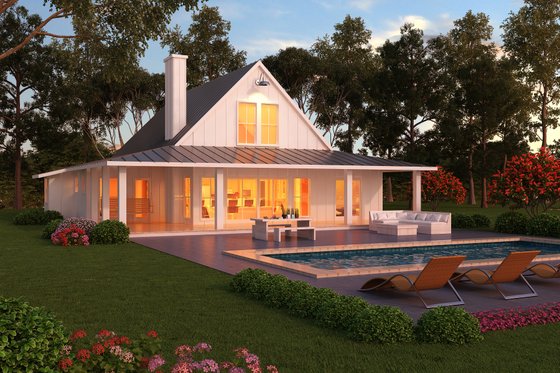 Plan 888-7 invites a relaxed lifestyle
Super-open, super-relaxed, and super-inviting, this modern farmhouse represents a great twist on traditional style. The master suite opens out back to a large lanai, which also is accessed from the spacious great room for easy indoor-outdoor living. Everyone can hang out here or at the snack bar in the open kitchen. Fun! An open floor plan throughout the main living areas invites a casual and relaxed lifestyle.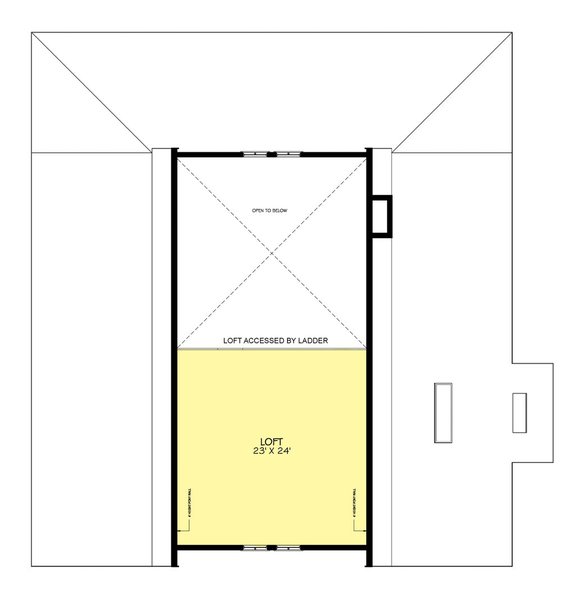 Spacious Mudroom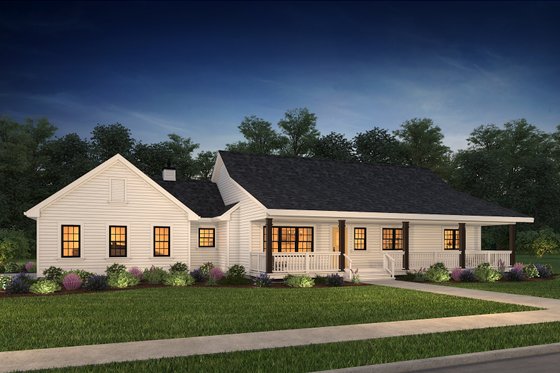 Plan 47-1023 offers thoughtful touches throughout
This graceful ranch home offers plenty of thoughtful touches. Vaulted ceilings in the great room, country kitchen, and master bedroom add a dimension of extra space. Relax in the master suite's tub, where a bayed window gives a lovely view of the backyard. Check out the spacious laundry room/mudroom too.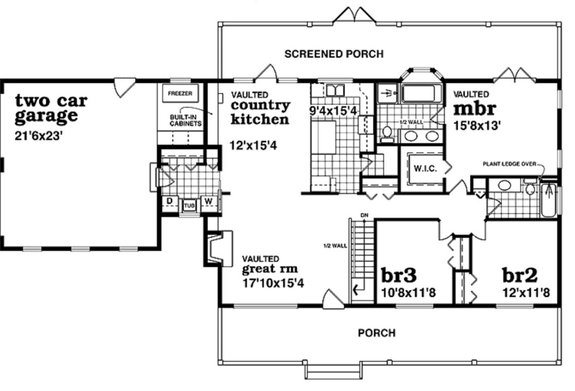 Welcoming Bungalow House Design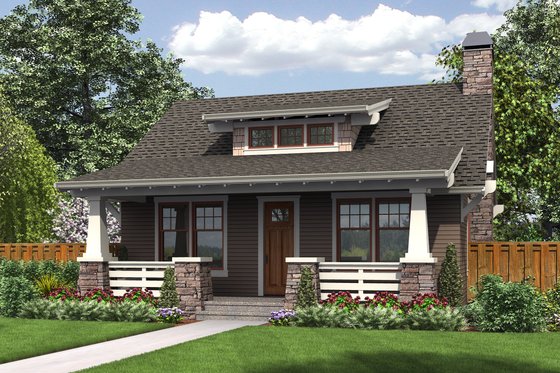 Plan 48-666 maximizes space with smart storage options
Here's a warm and welcoming bungalow house design that makes the most of its small footprint. Open interior spaces allow this home to feel bigger than it actually is. The built-in guest bed and shelves maximizes space and storage options. Front and rear porches lend plenty of outdoor space.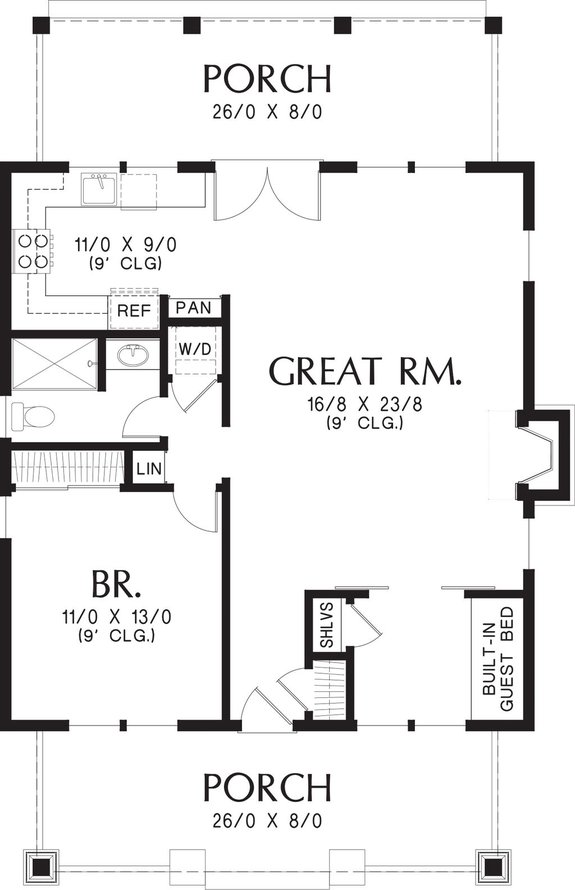 Small House Plan with Convenient Layout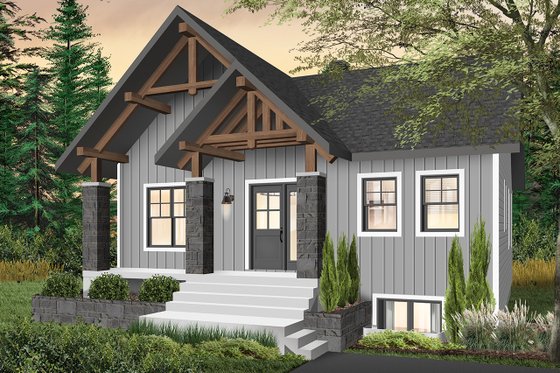 Plan 23-2677 offers a large walk-in closet in the master bedroom
Stylish and sensible, this narrow-lot house plan makes the most of its small footprint with an open floor plan. The large kitchen island conveniently opens to the great room and dining space. The master bedroom is located on the first floor (away from the other bedrooms) – creating a quiet oasis for owners.
The lower level gives you a generous bonus space can be used as a game room, guest suite, or home office. Two additional bedrooms reside on this level.