by Jenny Clark
Close your eyes and picture your dream home. What does it look like? Does it have two stories? If so, you've come to the right place! A two story house design offers a variety of advantages. Many family home plans are two stories, because parents with young children often prefer to have all or most bedrooms situated together, upstairs, allowing the kitchen and main living area to reign supreme on the first floor. Two story designs can also be especially beneficial in an urban setting, or anywhere land is scarce, as they tend to expand up more so than out. Below are eight trendy two story home designs in a variety of shapes, sizes and architectural styles.
Explore the Two Story House Floor Plans collection
Simple Modern Farmhouse Plan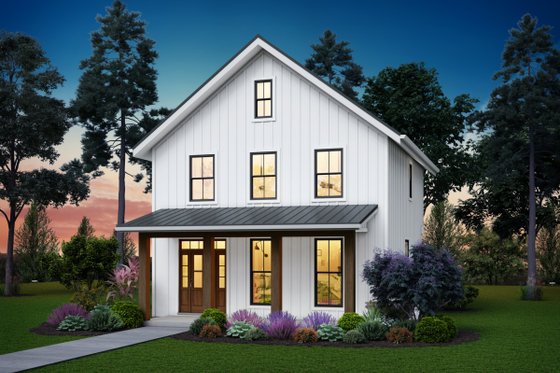 Plan 48-992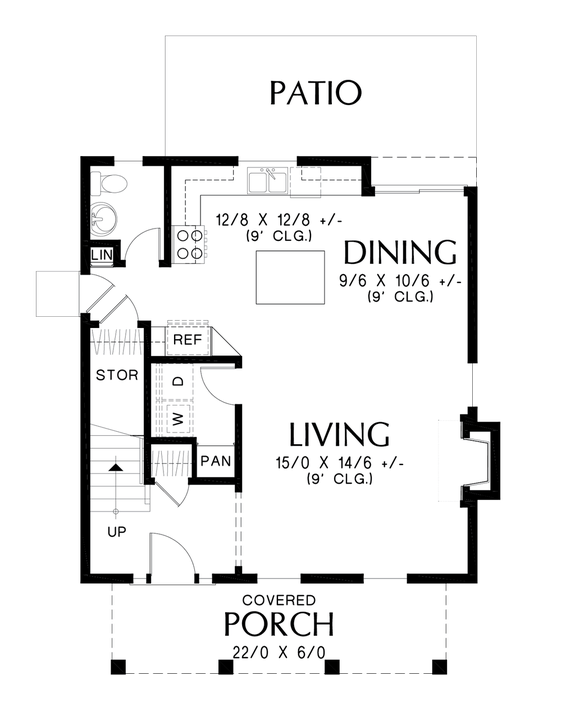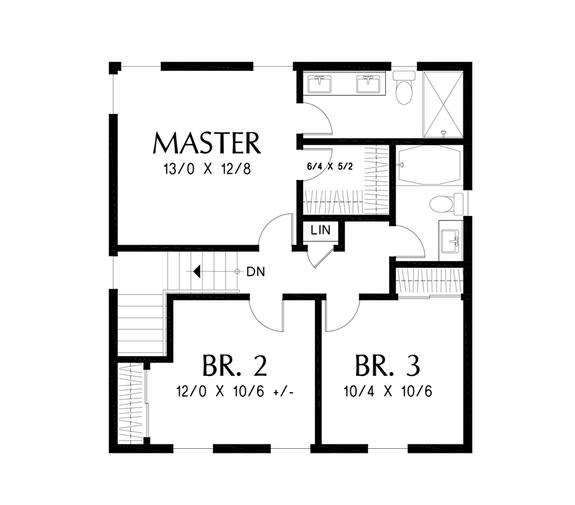 Okay, seriously, how cute is this plan? At only 26' wide and 34' deep, it's potentially perfect for a small lot. What's more, the home's footprint is relatively simple, making this design likely cheaper to build than a larger, more complex layout.
Inside this modest beauty, notice the open floor plan and kitchen island, both of which tend to be favored by families or anyone who enjoys entertaining guests. The three bedrooms, including the primary suite, live upstairs. Within the primary suite, take note of the two bathroom sinks and walk-in closet.
Rustic Meets Modern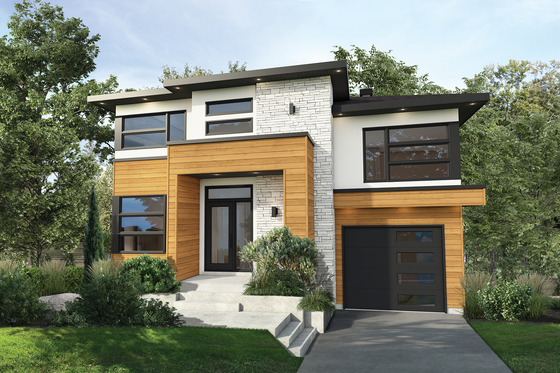 Plan 25-4876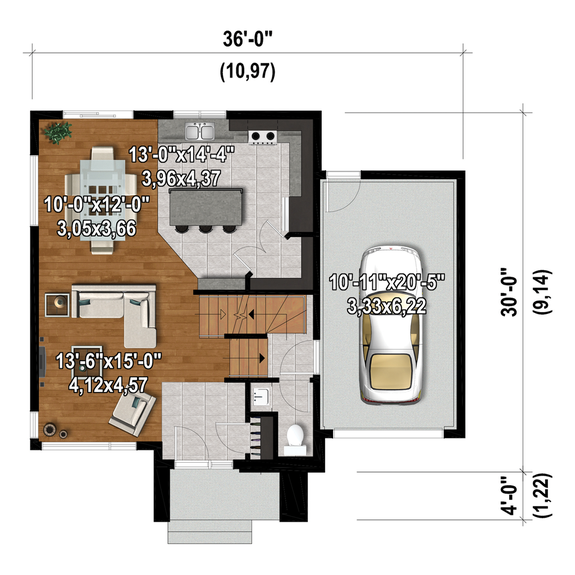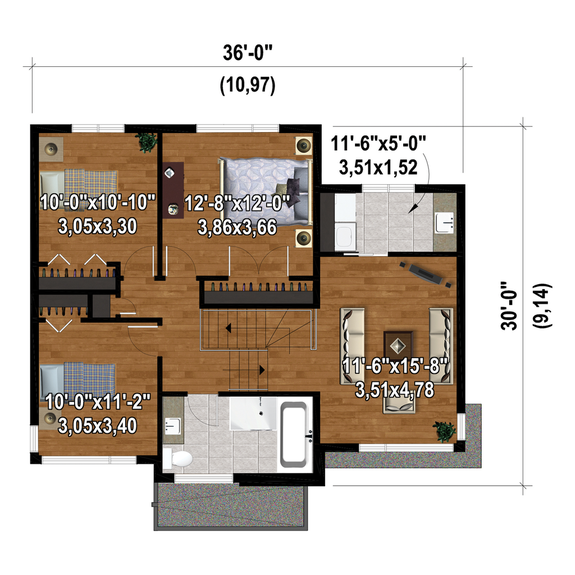 Wait. This house plan is rustic and modern? Yes, combining contemporary-modern architectural details (clean lines, slanted or flat roofs, monochrome color scheme, etc.) with a dash of wood or stone is a trendy look right now, and this design presents it in striking fashion. In addition to cool curb appeal, this layout offers an open-concept floor plan, a kitchen island, and a main-floor powder room. Upstairs, you'll discover three bedrooms (any of which could be used alternatively as a home office, storage, etc.), the laundry room (with sink), a full bathroom, and a loft, which could be used as a second living room.
Small Home with Cute Curb Appeal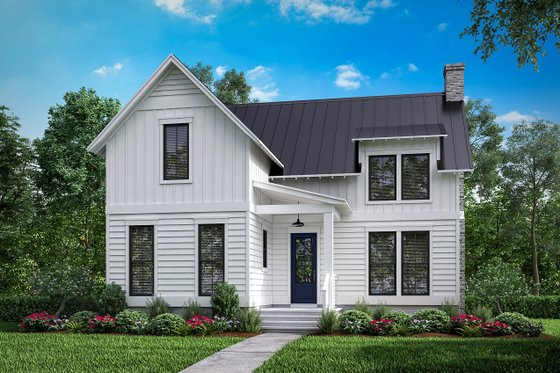 Plan 430-180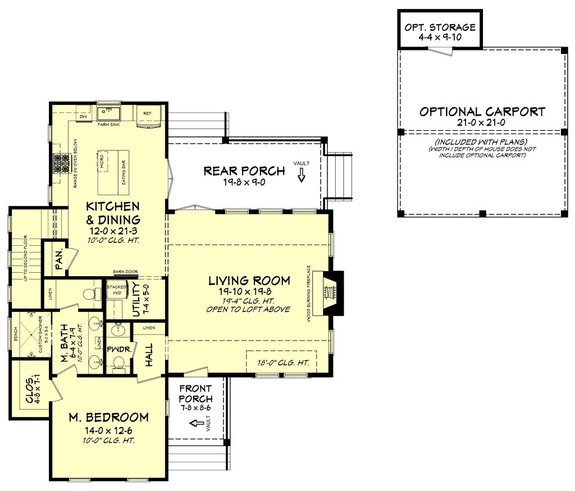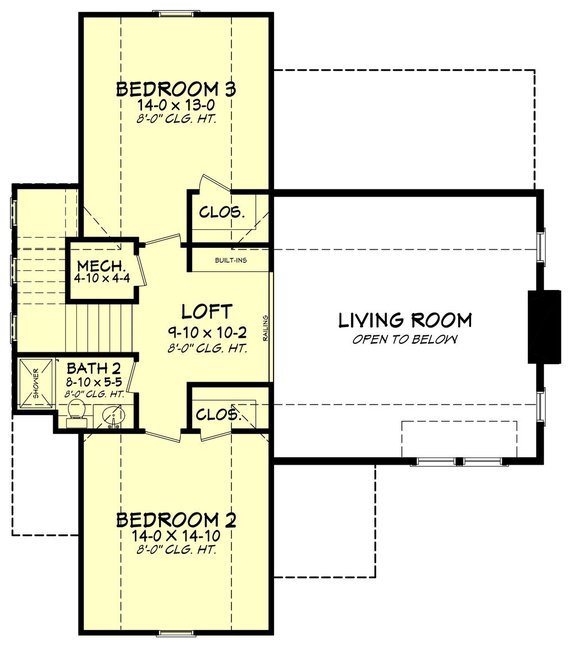 Here's another home design which might work perfectly for a relatively small lot. At 41' 4'' wide and 46' 10'' deep, this farmhouse offers a kitchen and living room with access to and views of the rear porch, a fireplace, a main-level primary bedroom, and a primary bathroom that enjoys a private space for the toilet and a custom shower with a built-in bench and two shower heads. Two more bedrooms and an extra bathroom live upstairs alongside a loft with built-ins.
Think you might need a little extra space down the road? Consider selecting a basement foundation that could be finished later in life.
Narrow Craftsman House Plan with Photos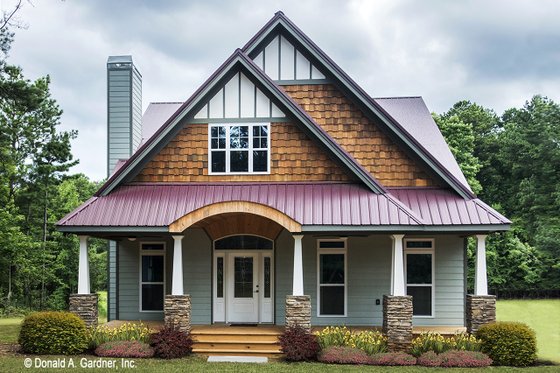 Plan 929-986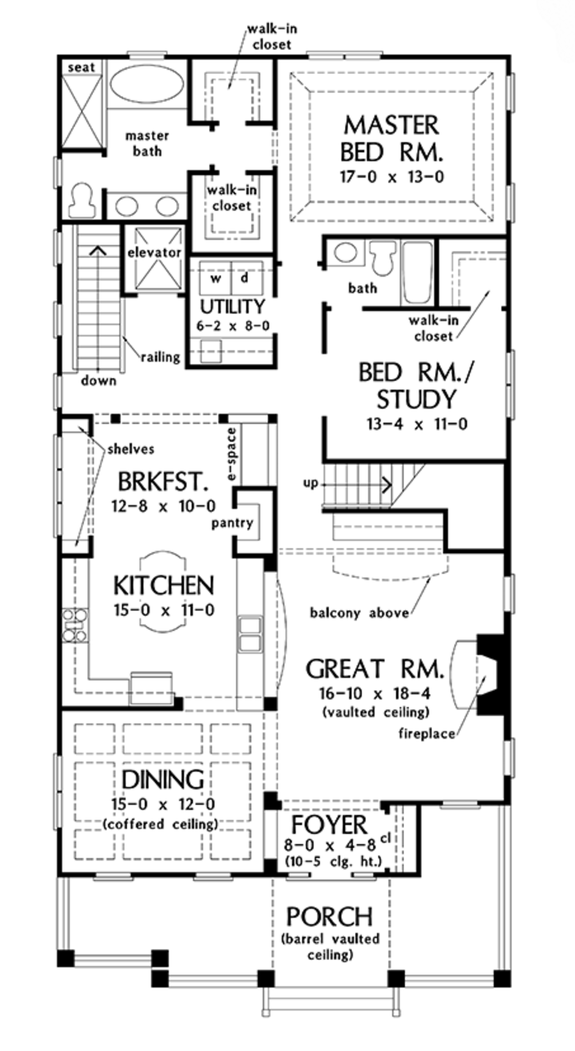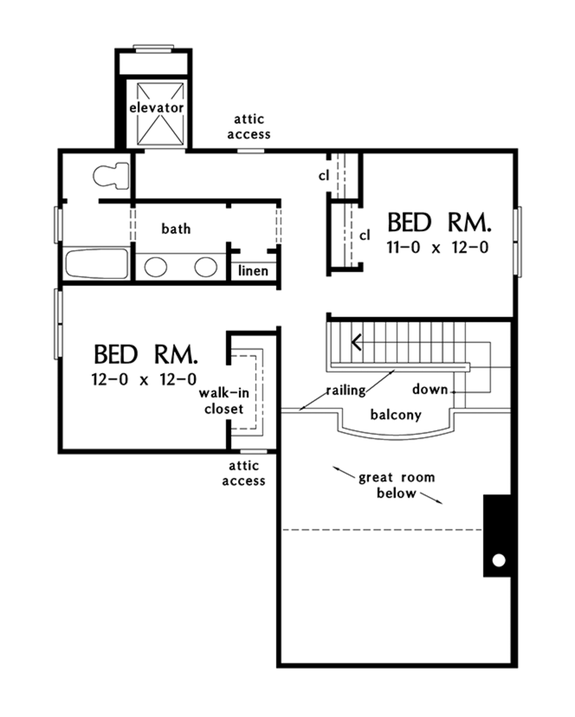 This two story design is only 33' 8'' wide and yet still manages to boast many beautiful and practical amenities, including an open layout, lots of kitchen counter space, a breakfast nook with built-in shelves and e-space, a formal dining room with coffered ceilings, and a vaulted, fireplace-warmed great room. The primary suite is featured on the main level in this design and offers a separate tub and shower (note the built-in shower seat), two sinks, and two walk-in closets. There is also one other bedroom (or study) on the main floor which could be used as a home office, den, library, or extra guest room. Upstairs, note the two additional bedrooms and bathroom, which could used by teenagers (who often need their own space), out of town guests, or as a hobby room of some kind.
Luxury Modern Farmhouse with Open Floor Plan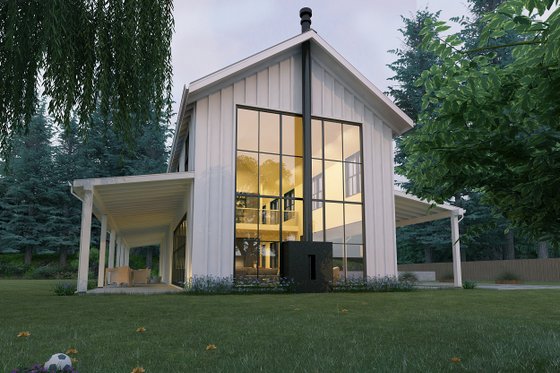 Plan 888-15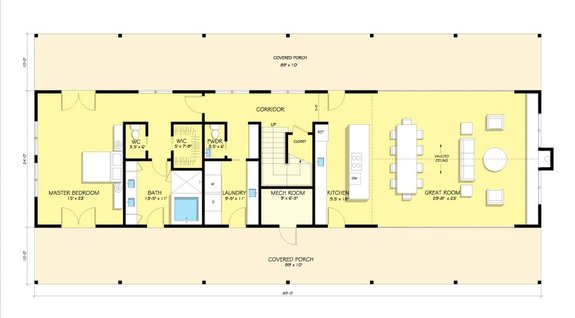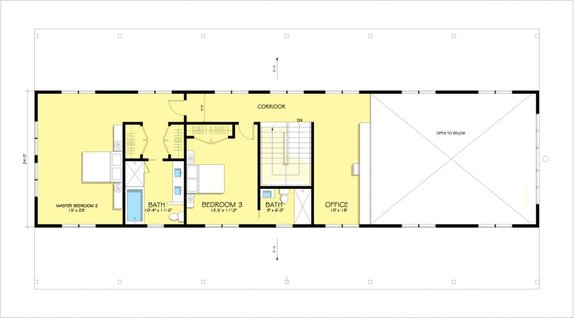 Looking for luxury? This super-hot 3,374 sq. ft. modern farmhouse plan serves up quite a bit! Check out the large cooktop kitchen island that's open to a vaulted great room and a magnificent wall of windows. What's more, two large covered porches live on either side of the property and offer numerous possibilities in terms of outdoor living. Somebody get a porch swing, a good book, and a cold glass of lemonade—STAT!
This plan also offers two primary suites (one on each floor), a third bedroom suite, and an office. In both of the primary bathrooms, note the separate tub and shower and two sinks. The main-level primary suite offers one walk-in closet, while the upstairs primary suite enjoys two regular closets.
Tudor Style Mansion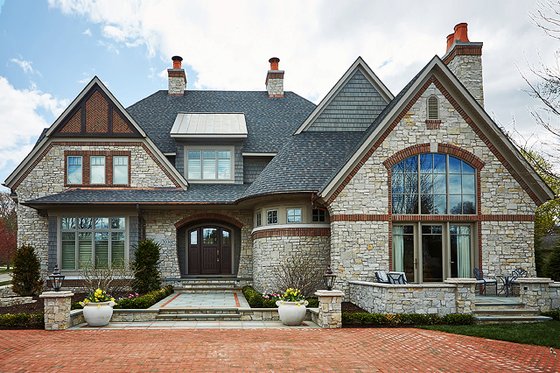 Plan 928-275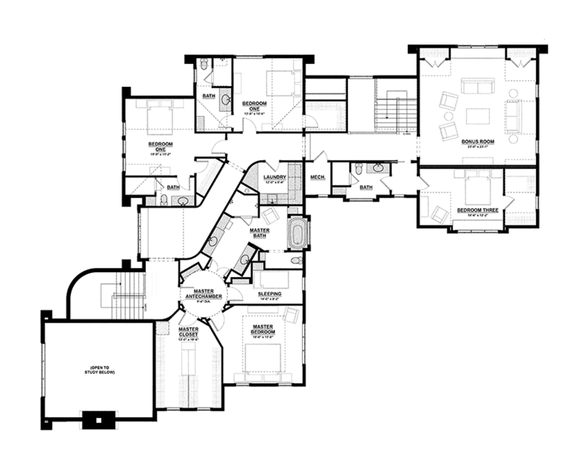 Dreaming of something even bigger? This two story, 7,398 sq. ft., castle-like layout takes "dreamy" to a whole new level! Let's begin exploring this mansion by entering through the mudroom, off the garage. You'll notice the mudroom features built-in storage compartments. Travel just a few feet more and you'll find yourself on a landing where you can choose to go upstairs or move forward into the main living space. Note how this landing area features its own island to help you stay organized. Perhaps this would be a good spot to leave your keys, purse, and or briefcase, so they're out of the way, but also hard to forget if you typically exit through the garage.
The main living space offers an open floor plan, a kitchen island, two living spaces separated by a warm fireplace, a breakfast/dining nook, and a walk-in butler's pantry fit with its own sink. There's also a sun room and a study that enjoys its own fireplace and refreshment/wet bar area.
Think the luxury ends there? Don't count on it! The second story sports an optional bonus room, a laundry room, and three bedroom suites, including the primary suite, which is totally decked out with a huge walk-in closet (the closet literally has its own island!), dual vanities, a separate tub and shower, an extra, smaller sleeping area that could be used as a nursery (or storage), and a chic circular antechamber that adds one extra dose of lavishness.
Beautiful Victorian Style House Plan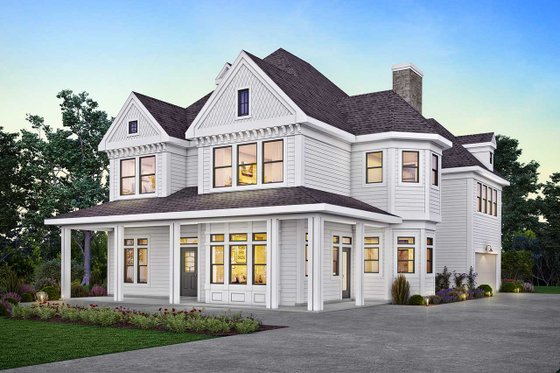 Plan 410-3612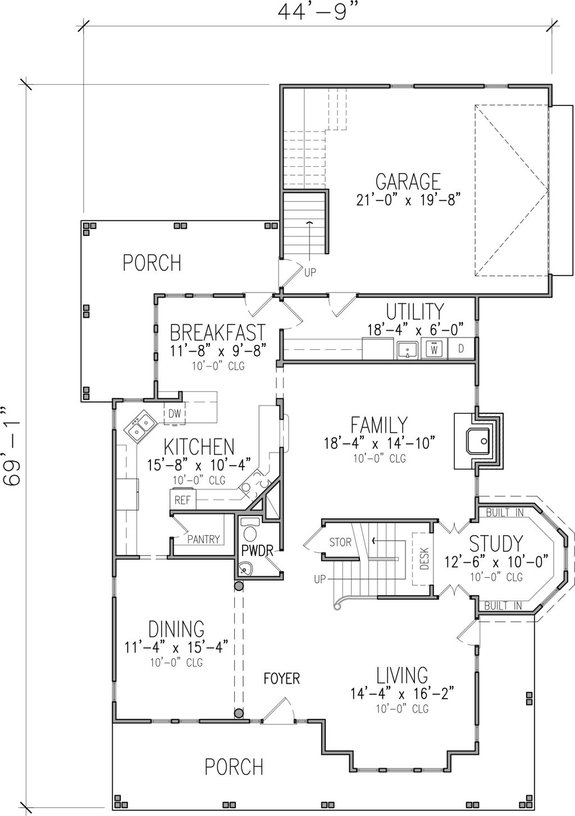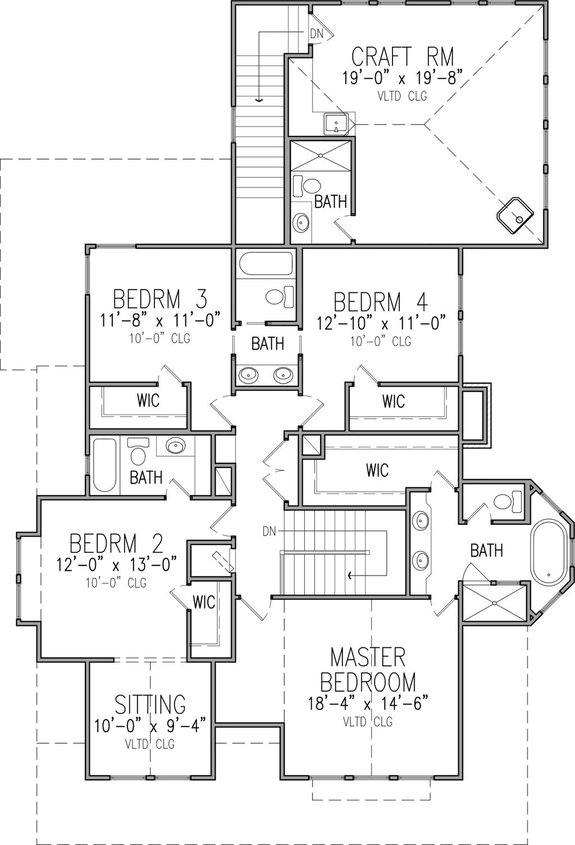 If cozy nooks, a more traditional interior layout, and impressive curb appeal are on your must-have list, this Victorian design checks all the boxes. Inside, notice how the kitchen is open to the breakfast nook, but not the main living spaces, ideal for anyone seeking to keep their dirty dishes out of sight. In addition to the two separate living spaces, the main level enjoys a unique, circular study/home office fit with built-ins. Meanwhile, the four bedrooms of this plan live on the second story, along with a craft room that enjoys its own private bathroom and staircase.
Disclaimer: Don't do crafts? Don't worry. You can use the extra room however you would like! Considering this room offers a private bathroom and a separate staircase by which to reach it, one could easily imagine this room acting as an in-law suite for older children, out of town guests, a parent, or, as the name would suggest, an in-law!
Each bedroom boasts a walk-in closet. Additionally, the primary suite presents two sinks, a separate tub and shower, and a vaulted ceiling. Note: Bedroom 2 (the other extra large bedroom) also features a vaulted ceiling in its "sitting" area.
Learn more about vaulted ceilings on Elle Decor
NEW Farmhouse with Decorative Truss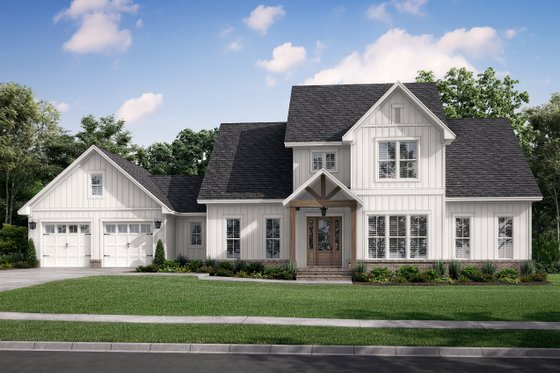 Plan 430-248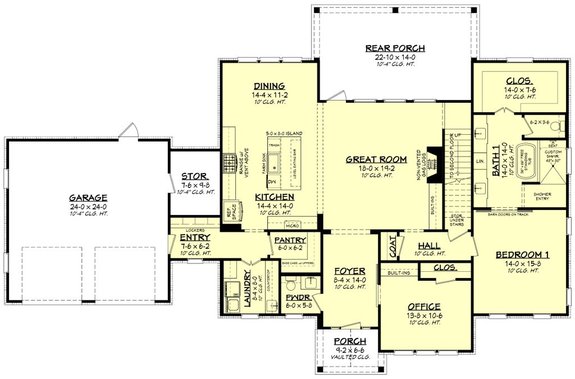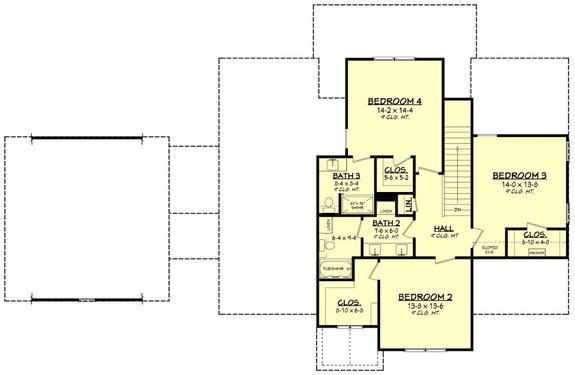 This new two story farmhouse floor plan offers warm curb appeal with its wooden truss that frames the main entrance. Inside, you're immediately greeted to a convenient powder room, a foyer, and then to a beautiful open floor plan. If you alternatively enter through the garage, note the built-in lockers and adjacent laundry room and pantry. This type of setup works well when bringing in groceries, or when trying to clean up or organize muddy boots, wet coats, umbrellas, etc. prior to entering the heart of the home.
On the right side of the main level lives an office with built-ins and the primary bedroom suite, which features two sinks, a separate tub and shower, a private space for the toilet, and a walk-in closet.
Upstairs, live three more bedrooms and two more bathrooms. Note how Bedroom 2 presents a roomy walk-in closet for better storage while Bedroom 3 offers a closet with a built-in dresser. Speaking of storage, if you need a little extra, check out the garage!
Find more 2 Story House Floor Plans